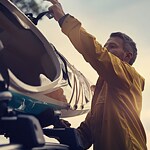 Whether you're planning a family camping expedition or packing for an extended business trip, you're certain to appreciate the many benefits of a roof rack. Knowing how to properly use the rack is critical to the safe arrival of you and your belongings at your final destination.
When you load the rack, be sure that the weight is evenly distributed and that nothing hangs over the sides or front. Use water-resistant luggage or a specially designed roof storage bin to protect your items from the elements, and fasten the load in place with sturdy cords or straps in every direction.
For additional tips on safely using a roof rack or to have your vehicle checked out and serviced before you leave on your next trip, visit the team at Select Automotive today.